Those Aren't Lesbian Nails! THESE Are Lesbian Nails...
Recently I was tagged to a Buzzfeed video by a friend who thought I might find it "interesting" or at the very least humorous. And, I did find it humorous... mostly. But, I also found it biased and misinformed. I have had this conversation time and again with my sister who always jokes about my "not-lesbian-appropriate nails", friends who question how I "work with my hands", and even a previous interest that said she was "slightly afraid" of my nails. Yes, I am a lesbian and I wear nails. I have worn nails for 2/3 of my life, seriously I started wearing nails (long acrylics at 14). I have also been in a relationships with women (officially) since I was 16. And while I identify as queer and have been involved with men (thus, my two children) I have never questioned my love for women and my nails have never hampered my ability to be intimate. I am currently in an exclusive relationship with my female partner of 2 years and yep, I still have long, slightly curved, almond shaped nails and she encourages me to get them done, takes me to the shop, and sometime pays for them as her support and contribution to my self care.
Soooo.. I wanted to dispel a couple of myths about being a lesbian with real or fake long nails.
1. "Lesbians don't wear nails..." Ha! While I identify as Queer, let's get one thing straight, I am NOT. I am a lesbian and I have long, acrylic, almond-shaped (not quite stiletto) nails. But, according to this article from After Ellen most of you are correct. In the survey conducted in 2014, only 4% of the Sapphics who responded like having long and polished nails, while 48% said they preferred short, bare nails sans filing and buffing. Seemingly, not much has changed in the last 3 years.
2. "It's going to hurt"... Chile, please! What hurts worse, is an unskilled lover! While I would agree that longer, more pointed, or more curved nails will certainly present their own challenges that alone does not mean that it will be a painful experience. Having sex where your hands tend to be the main instrument of pleasure is a skill. Learning how to be a gentle, considerate and safe lover is also a skill. The absence of long nails does not make your lover any more skilled than having nails makes them dangerous. If you have a lover who knows how to use her hands, trust me it should not hurt, EVER... (unless that is your kink). I have never had a complaint.

2. "But what about the germs???" Honey, your hands / fingernails (long or short) are only second to your mouth in being the dirtiest parts of your body, according to boldsky.com. Masticate on that, when you consider the main mechanisms for experiencing and delivering pleasure between lady lovers. It goes without saying that you should wash your hands thoroughly before engaging in any intimate activities with your phalanges. And believe it or not, most people do not properly wash their hands regularly, here is what we should all be doing. Additionally, the use of finger cots aka finger condoms creates a barrier to spreading germs and potential infection among partners. Wrap it up, B!
4. "But long nails don't look lesbian" ... You cannot judge a book by it's cover or a lesbian by the length of her nails. There are lots of long held stereotypes about LGBTQIA people that have been detrimental and dangerous to our community. Our continued belief in those conventions is not only unfair to all of us, but can also perpetuate dangerous attitudes and biases about things people assume they can tell by looking at you. Therefore, it is our responsibility to dispel the myths and live our truest selves in all of the ways imaginable.

Now then... I'm gonna hop of my soapbox because I have a standing appointment with my manicurist!
I welcome your comments and questions, please respond in the comments section below. ;)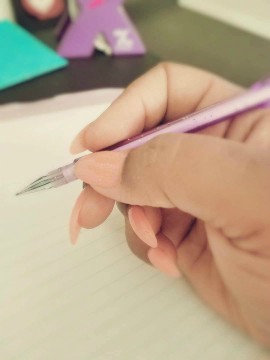 My Name Is Malaika Salaam
And I am a Lesbian with long nails. (: